MEghan, if you're that concerned make some calls since, as People magazine said, you're the daughter in an icon and bad R. Get all of them here(I approve of that), but to stay mostly in your family homes. Always an expert on everything except opening the comments section.


https://twitter.com/MeghanMcCain/status/1427998171582668803 …pic.twitter.com/KP0uqZkmHT
hey need and will get help but that was the price that people like YOUR FATHER and all this neocons sold the American ppl 20yrs ago. Also remember that Americans died for that "war" cause while your family benefited from those payments from defense contractors.

https://twitter.com/MeghanMcCain/status/1427863626711552007 …pic.twitter.com/FkEBezXDPN
Wonder what fake outrage you're going to be at next month. July was Jewish outrage. Tweeting this from your DC luxury place, probably paid off by defense contractors. You know, the ones that funded your daddy career.
Funny that you NEVER tweeted anything when the war was fully on and American soldiers were brought home in caskets. I know you and your clown party are faking this outrage for political purposes but the actual American people are on Biden's side on this.https://twitter.com/MeghanMcCain/status/1427603801977114655 …
Also, you were outrage about all the hate Jews were getting for like a week or 2 and even added that you were a Zionist. Saw that you took that down and now faking this "outrage" for the Afghan people when you never EVER spoke about it. Wonder what you'll be outrage in Sept

https://twitter.com/MeghanMcCain/status/1427367737966354436 …pic.twitter.com/npwJqsNCfB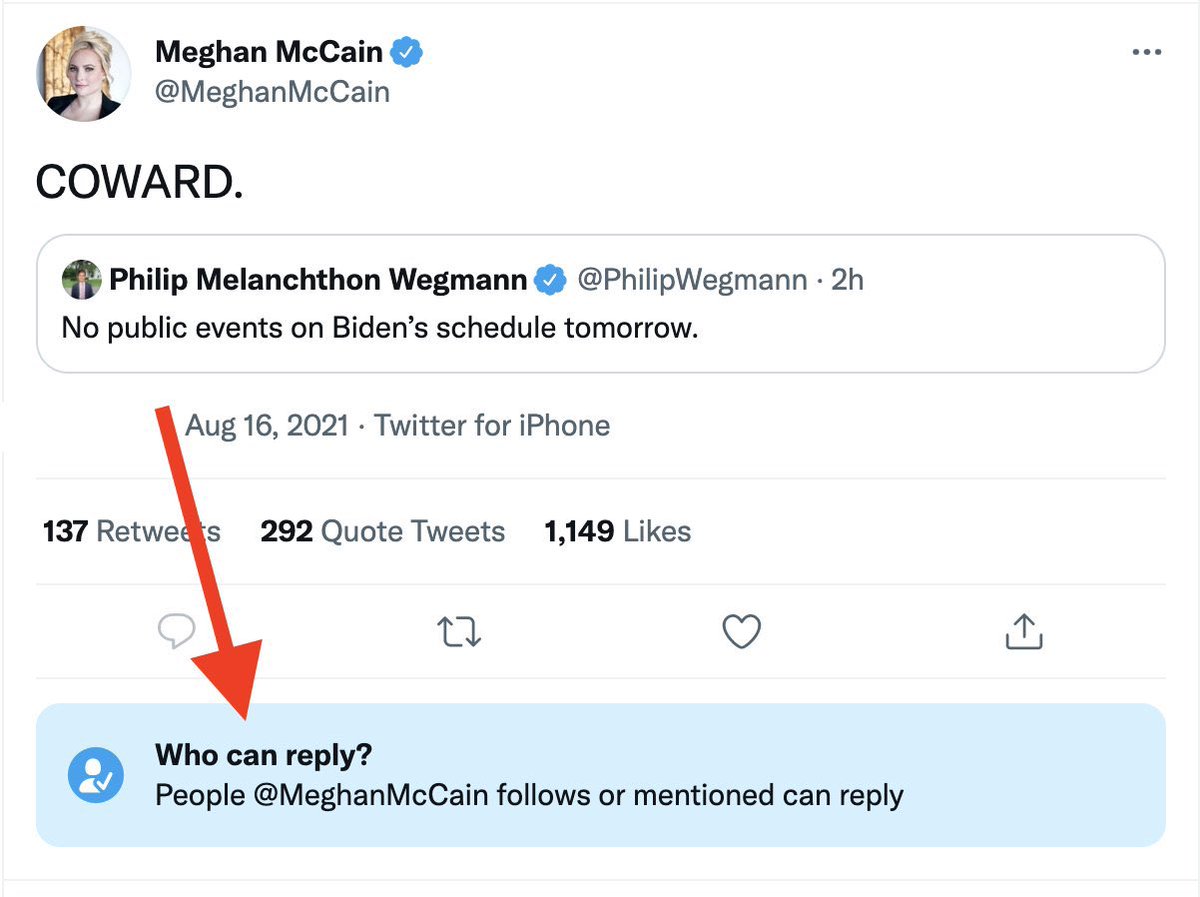 I know, defense contractors are going to be sad for a little while because there's not a "war" going on. Don't worry they have people like you and your party to start scaring Americans soon into going to another conflict for money.


https://twitter.com/MeghanMcCain/status/1427367737966354436 …pic.twitter.com/4lwvVxV5q1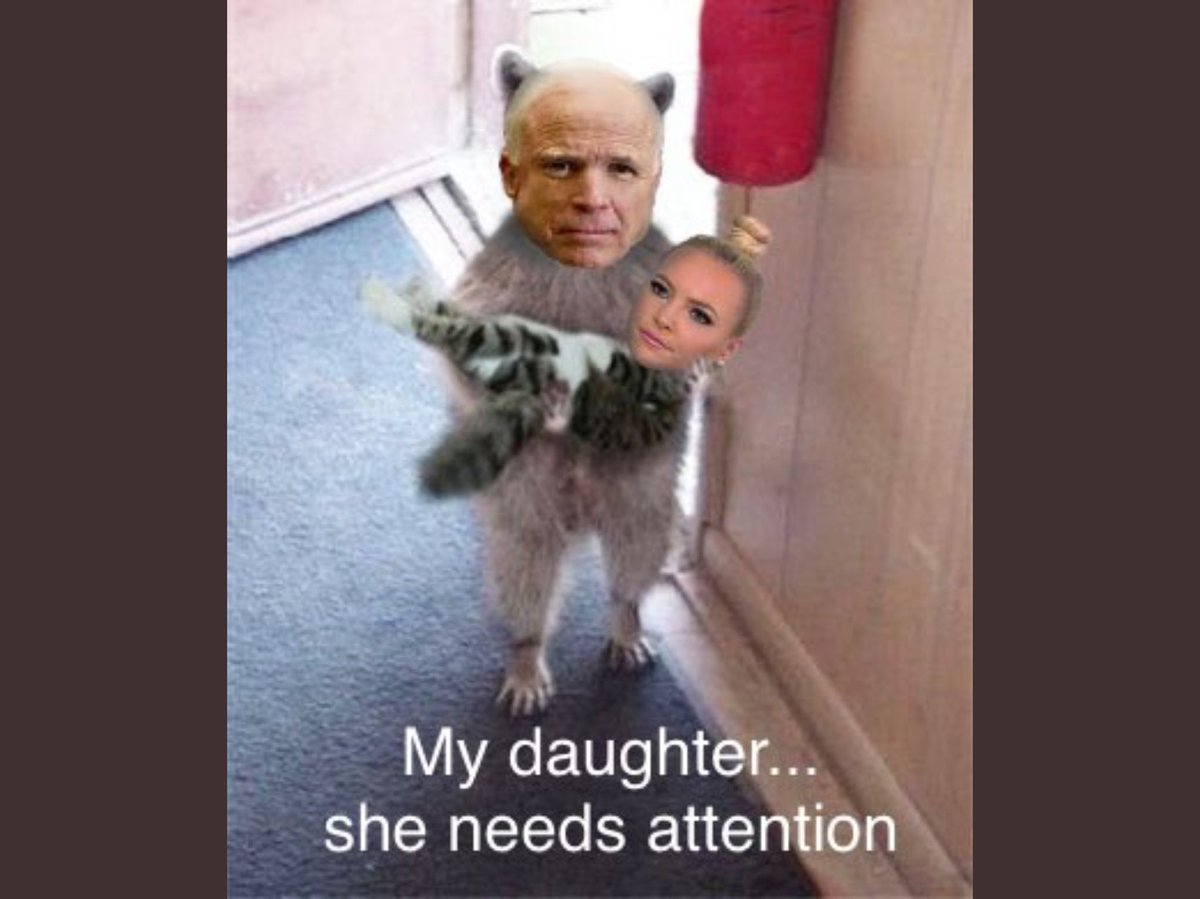 Since you and your party are very concerned, why don't urge congress and Biden to allow every single Afghan that wants to leave to come here since y'all "concerned" about them. Remember though, they're brown skin and usually don't vote Republicanhttps://twitter.com/MeghanMcCain/status/1427366876053704704 …
We know you don't understand almost anything. That's not news. This whole thing was inevitable, all of it. But hey, you and your family got lots of "gifts" from defense contractors over the years that your father was alive wanting wars everywhere in the world. So sit down

https://twitter.com/MeghanMcCain/status/1427366876053704704 …pic.twitter.com/vlQ2jyEvbv
Our military can't go around fighting battles for people that can't or won't defend themselves. I know that defense contractors are waking politicians ups cause their pockets going to be a little bit dry by this decision but knowing us, I'm sure we'll start something else soonpic.twitter.com/1ZdJ6aDrZh
Clown, is your party AND YOU doing all his "political blame". Facts are clear, Trump signed off the deal to end it on May 1st. Actually wanted it sooner. Biden pushed it to now. Has it been perfect? Of course no. But why aren't the Afghan people defending their country? https://twitter.com/MeghanMcCain/status/1427363899024756738 …pic.twitter.com/PUOoijMHo0
This was going to happen yesterday, today or tomorrow. And it was going to go down exactly like it's happening now. Ask yourself, did the military complex paid my father's house and cars for his support of all wars? Did my art degree history paid by them as well? A whole

https://twitter.com/MeghanMcCain/status/1427221051054952450 …pic.twitter.com/xBLim8RDx0
You need a mental help ASAP . Maybe is amnesia what all Rs are projecting but this is all work of previous administrations that rolled down money and training for nothing. Btw, your FATHER was the biggest cheerleader of staying there forever. So shut up former view cohost


https://twitter.com/MeghanMcCain/status/1427221717982777348 …pic.twitter.com/CpQBd9J4li